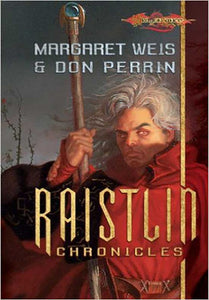 Margaret Weis
The Raistlin Chronicles (Dragonlance)
Regular price
$15.95
$0.00
Unit price
per
Discover the origins of one of the most intriguing characters in Dragonlance, Raistlin Majere.

Before he became a Hero of the Lance, Raistlin Majere forged his magic in the Towers of Wizardry and on the field of war. From The New York Times best-selling author Margaret Weis, and co-author Don Perrin, The Raistlin Chronicles reveals the origins of Dragonlance's ultimate anti-hero and other much-loved characters.

This omnibus edition collects the books The Soulforge and Brothers in Arms. 

Lucky You! - All books will be signed, and can be personalized, by Margaret Weis. If you'd like a special inscription, please leave us a note in the comments section at check out.
Wizards of the Coast - Published March 2013
ISBN-13: 
978-0-7869-5394-3
---