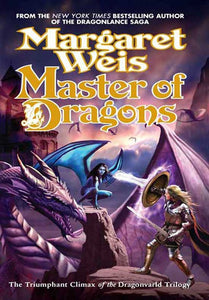 Margaret Weis
Master of Dragons (Dragonvarld, Vol. 3)
Regular price
$7.99
$0.00
Unit price
per
In Mistress of Dragons we were introduced to a world where political deception, greed, and avarice have lead to a violation of the "hands off" policy of the Parliament of Dragons concerning the affairs of men.
In The Dragon's Son twins born out of violence and raised apart discover the secrets of their legacy and the plot to incite a war between dragons and men.

Now as the evidence of deceit, betrayal, and perdition is revealed to them, who will emerge as mankind's savior as the Master of Dragons.

A divided Parliament of Dragons where division and self preservation incite war and threaten the order of the ages.

A hidden stronghold where insidious and outlaw dragons hatch a race bent on the subjugation of all mankind.

The ancient city of Seth and its mystical order of warrior priestesses who have the power to fight back against the attacks of dragons.a

The twins Marcus and Ven must unlock the secrets of these places and their own powers and overcome their own personal differences as they prepare to clash in a war that may pit brother against brother and dragon against dragon to determine dominion of the world and the survival of the fittest.

Master of Dragons is the epic conclusion of Margaret Weis's triumphant Dragonvarld trilogy, an epic of politics, war, and the delicate balance of the ways of dragons and men.

From Publisher's Weekly:
With a bright flash of dragon magic, bestseller Weis winds up her enchanting Dragonvarld trilogy, which began with Mistress of Dragons (2003) and continued with The Dragon's Son (2004). Nasty rogue dragons have plunged this colorful fantasy world into turmoil. Ven, who's part dragon and part human, and his normal-appearing twin, Prince Marcus, seek to avenge their mother Melisande's brutal death. Marcus also hopes to protect Idylswylde, his father's kingdom, aided by the gypsy Evelina, who longs to trap Marcus into marriage and ends up holding the key to future dragon intrigues. A fire-breathing finale leads to a mysterious denouement that hints of adventures to come. Weis is also the co-creator with Tracy Hickman of the Dragonlance role-playing game series.

From Booklist:
The conclusion of Weis' compelling Dragonvold trilogy is an eminently fitting companion to Mistress of Dragons (2003) and Dragon's Son (2004). The trilogy's two renegade dragons have assumed human form by ripping the hearts out of living humans and taking over the bodies in a horrific plot to enslave humanity and rule dragonkind itself. Meanwhile, the twins, one of whom was sired by the dragon Grald in human form, have grown up and discovered each other, and while the fully human Marcus works to come into his dragon powers, his brother, Ven, who walks on dragon legs, denies his own powers. But it will take both of them as well as their mentor, Draconas, the dragon who walks in human form, to confront and defeat the evildoers. Weis spreads her net wide, bringing together the disparate plot threads of the previous books to wrap things up in a satisfactory manner and yet allow room, perhaps, for another story set in the same world.
Lucky You! - All books will be signed, and can be personalized, by Margaret Weis. If you'd like a special inscription, please leave us a note in the comments section at check out.
Tor Books - Published 2005
ISBN-13: 
978-0-7653-0470-4
Paperback: 352 pages
EU buyers please be aware that when purchasing from our store you will be required to pay VAT and/or duties upon delivery.
---