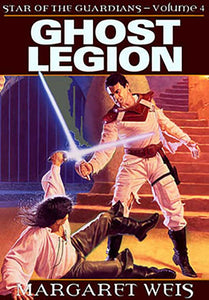 Margaret Weis
Star of the Guardians, Vol. 4 - Ghost Legion -- Electronic Edition
Regular price
$6.99
$0.00
Unit price
per
Electronic Edition Only - Print Edition Currently Out of Print

Young Dion Starfire is the ruler of a galaxy that is finally at peace after years of strife and bloodshed. Yet the peace is an uneasy one. Dion has fallen desperately in love with a woman who is not his queen, and suddenly the fragile alliances that rest on his marriage are threatened. Then real violence erupts as an illegitimate son of the dead king, in hiding on a forgotten planet, plots Dion's overthrow. At his command is an army of unseen "ghosts"- alien presences that can roam the galaxy and kill at will. Dion must turn to an old mentor and enemy, Derek Sagan, as the one man who can help him battle the bastard prince and his dark minions. And at Derek's side hovers the powerful, shadowy presence of his lost love, Lady Maigrey. If Dion can only win their aid, he may have one last chance to preserve his throne... and peace for the galaxy.
After your order is complete, you will be able to download a zip file containing your book in Epub, Mobi, and PDF formats.
ISBN-13: 978-1-931567-03-5
Electronic Edition
---