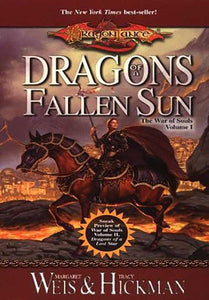 Margaret Weis
Dragons of a Fallen Sun (Dragonlance War of Souls, Vol. 1)
Regular price
$7.99
$0.00
Unit price
per
The people of Krynn have known war in past ages. Some are still alive who remember the triumph of good at the conclusion of the War of the Lance. Still more remember the devastation of the Chaos War, which ended the Fourth Age of the world.

But now a new war is about to begin, more terrible than any have known. This war is one for the very heart and soul of the world itself.

Please note - these books were shipped directly from our publisher and have slightly discolored page.
Lucky You! - All books will be signed, and can be personalized, by Margaret Weis. If you'd like a special inscription, please leave us a note in the comments section at check out.
Wizards of the Coast - Published January 2001
ISBN-13: 978-0-7869-1807-2
Paperback: 624 pages
EU buyers please be aware that when purchasing from our store you will be required to pay VAT and/or duties upon delivery.
---