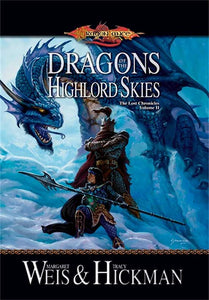 Margaret Weis
Dragons of the Highlord Skies (Dragonlance Lost Chronicles, Vol. 2)
Regular price
$7.99
$0.00
Unit price
per
The Chronicles retold--from evil's point of view.

The story starts in Neraka, where Kitiara uth Matar and Emperor Ariakas hatch a plan to retrieve a dragon orb and thereby destroy Solamnia and the Companions in one fell swoop. But the guardian of the dragon orb, Highlord Feal-Thas, disagrees with this plan. Kitiara must go to Ice Wall to force him to accept Ariakas' will, but her journey does not end there. Thrown out of favor, she conceives a daring plan to enlist the aid of the most feared beings on Krynn--Lord Soth and the Dark Queen. Meanwhile, Laurana and the Companions retrieve the dragon orb and take it back to Solamnia--not knowing that they bring their allies' doom with them.
The second volume of a new trilogy from celebrated authors Margaret Weis and Tracy Hickman, The Lost Chronicles details the famed War of the Lance from the perspective of the evil that menaces Krynn. The books are written in such a way that they will be marvelous complements to the original Chronicles, while at the same time accessible and exciting to new readers.
Lucky You! - All books will be signed, and can be personalized, by Margaret Weis. If you'd like a special inscription, please leave us a note in the comments section at check out.
Wizards of the Coast - Published January 2008
ISBN-13: 
978-0-7869-4860-4
Paperback: 496 pages
---