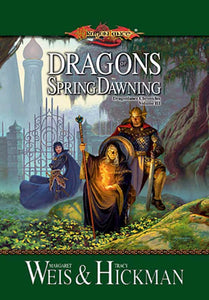 Margaret Weis
Dragons of Spring Dawning (Dragonlance Chronicles, Vol. 3)
Regular price
$7.99
$0.00
Unit price
per
The war against the dragon minions of Queen Takhisis rages on. Armed with the mysterious, magical dragon orbs and the shining, silver dragonlance, the companions bring hope to the world. But now, in the dawn of a new day, the dark secrets that have long shadowed the hearts of the friends come to the light. Betrayal, treachery, frailty, and weakness will nearly destroy all that they have accomplished.

The greatest battle they have left to fight is within each of them.

Yet, in the end, they will be heroes.

Please note - these books arrived slightly discolored directly from our Publisher.  
Lucky You! - All books will be signed, and can be personalized, by Margaret Weis.

 

For Chronicles and Legends requests, please limit any special inscription request to five words or less (not including Margaret's signature) as there is VERY limited space provided.

 

Just leave us your request in the notes section at checkout. Thanks!
Wizards of the Coast - Published November 1999
ISBN-13:
978-0-7869-1589-7
Paperback: 384 pages
---