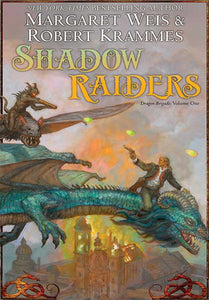 Margaret Weis
Shadow Raiders (Dragon Brigade, Vol. 1)
Regular price
$8.99
$0.00
Unit price
per
Lord Captain Stephano de Guichen, formerly of the Dragon Brigade, and his disparate group of friends who call themselves the Cadre of the Lost, are hired by the powerful Countess de Marjolaine, to find a Royal Armory journeyman who has mysteriously vanished, along with an invention that could revolutionize warfare. The Countess fears the invention may fall into the hands of their enemies. Always in need of money, Stephano and his friends undertake what they think is an easy job, only to discover they are being dogged by spies and targeted by assassins.
Meanwhile, Father Jacob Northrop, a priest of the feared Arcanum, and his Knight Protector, Sir Ander Martel, are dispatched to investigate the massacre of a hundred nuns at the Abbey of Saint Agnes. A lone survivor claims the nuns were attacked by demons from Hell.
Stephano and his friends take to the skies in their airship, the Cloud Hopper, still on the trail of the journeyman. Their route takes them near the Abbey of Saint Agnes. As they draw near, the Cloud Hopper comes under attack by what appear to be demons riding giant bats. Stephano teams with Father Jacob and Sir Ander and a dragon from his old brigade to fight the hellish forces.
After the battle, one question is on everyone's mind: Are these truly demons sent by the Evil One? Is this the Apocalypse?
As Father Jacob searches the Abbey to find the answer, he uncovers a startling secret that nearly gets him and Sir Ander killed. Stephano's search for the journeyman almost ends in disaster, as he and his friends encounter the deadly Freyan assassin, Sir Henry Wallace.
Schemes and tricks, lies and intrigues culminate in an exciting chase through the skies that comes to a shocking end, when friends and foes alike are caught up in the unexpected and terrifying conclusion.
And check out STORM RAIDERS, the second book in the Dragon Brigade Series. You'll definitely want to add this book to your wish list as it's received a starred review from both Publisher's Weekly and Kirkus!
Reviews
"Longtime writer Weis joins with video producer Krammes for this first book in a new fantasy series, The Dragon Brigade. Magic is intrinsic to the world of Aeronne, where continents float on a gaseous material known as The Breath. Majestic dragons are just some of the fantastic creatures found in this epic tale of adventure, secrets, schemes, and plots. The characters are detailed, from actions and motivations to wardrobe, and fully developed... Of interest to Weis's fans as well as lovers of fantasy and adventure stories." - Library Journal

"An imaginative military fantasy about empires in deadly conflict." - Barnes & Noble

"Margaret Weis & Robert Krammes have written a grand epic fantasy reminiscent of the early Shannara books. Magic is emboldened in objects and large percentages of the populace can use it. Readers will feel they are visiting another world mindful of the English French medieval war period; but also filled with paranormal creatures; some are allies of mankind while a few are indifferent and the rest are belligerent. The key characters are fully developed, but most important is the magic of the first Dragon Brigade saga seems real." - Alternative Worlds
Lucky You! - All books will be signed, and can be personalized, by Margaret Weis. If you'd like a special inscription, please leave us a note in the comments section at check out.
DAW Books - Published May 2012
ISBN-13: 978-0-7564-0722-3
Paperback: 704 Pages
---