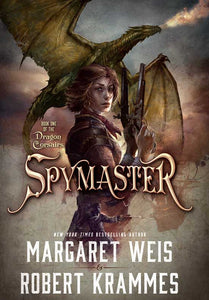 Margaret Weis
Spymaster - Trade Paperback
Regular price
$16.99
$0.00
Unit price
per
The start of a swashbuckling adventure from New York Times bestselling author Margaret Weis and Robert Krammes.
Captain Kate Fitzmaurice was born to sail. She has made a life of her own as a privateer and smuggler. Hired by the notorious Henry Wallace, spymaster for the queen of Freya, to find a young man who claims to be the true heir to the Freyan, she begins to believe that her ship has finally come in.
But no fair wind lasts forever. Soon Kate's checkered past will catch up to her. It will take more than just quick wits and her considerable luck if she hopes to bring herself―and her crew―through intact.
Read the first chapter on tor.com!
Read the first three books in the Dragon Brigade Series! Don't worry, Spymaster stands on its own but if you enjoy it, you'll want to read Shadow Raiders, Storm Riders and The Seventh Sigil.
____________________
Booklist Reviews 2017 March #1
The war with the Bottom Dwellers is over, and the Freyan economy is a disaster. The crown prince has been killed, and the Freyans discover that they won't be able to take over the refineries that create the more efficient crystalline fuel for their ships. The wheels of politics turn. Henry Wallace, spymaster, works to discredit the pretender to the Freyan throne, Prince Tom, all while searching for a way to refill Freyan coffers and uncover the motivation behind a rather cleverly planned assassination attempt. Wallace sends an old agent, Phillip, to work on dissuading Prince Tom from angling for the throne, with unexpected results. Captain Kate, a scavenger given a letter of marque as a privateer, is caught between Wallace and the crime bosses who want him dead. A tangled web of intrigue and politics, driven by characters who are thrown again and again into situations that they can't control, this is a solid addition to a new series, with a cliffhanger ending promising more intrigue and adventure in the next installment. Copyright 2017 Booklist Reviews.
---
Rising Shadow Review - March 21, 2017
A bold new swashbuckling fantasy adventure set in the land of the exciting Dragon Brigade trilogy.
Politics, court intrigue, and piracy combine in this gripping fantasy adventure. On a world already riven by the ancient hatred between the Rosian and Freyan empires, privateers of each nation have long preyed on the ships of the other. What few realize is that a sinister cabal controlled by a rogue dragon is not only behind this piracy, but is organizing criminal enterprises all over the world.
As one privateer and her dragon corsairs try to keep their enterprise afloat, they are caught up in a conspiracy hatched by the cabal... and threatened by a mysterious magic crafter who works in the shadows.
Freya, in turmoil because of the accidental death of the heir to the throne, is also deeply in debt. Sir Henry Wallace, their master spy, is charged with replenishing the treasury by inviting dragons from Travia to make Freya their home — a decision that will have disastrous consequences for everyone involved.
In a riveting novel of pulse-pounding suspense, the ruthless conspiracy of humans and dragons plots against Sir Henry and the Dragon Corsairs... And waiting in the wings, planning to throw everything in turmoil, is a young man known as Prince Tom, who claims to be Freya's true and rightful king.
---
June 2017 Issue, Galaxy Edge - Bill Fawcett
Spymaster,   by Margaret Weis and Robert Krammes      TOR Books
The setting of this novel adds a touch of novelty to a tightly crafted adventure. Beyond the excellent writing and really well drawn characters we have come to expect from Margaret Weis's work since her early D&D novels, the world itself adds to the fun. On this planet there are no oceans, but rather the atmosphere thickens until it reached a point where it becomes first both? then unbreathable, as in the methane atmosphere of Jupiter. Travel is by ships sustained at the murky edge above the unbreathable by balloons and magic, which are a cross between dirigibles and 17th century wooden ships. Islands are (as they are in our water oceans) mountain tops. Most of the action takes place in a tropical area that resembles the West Indies in the golden age of piracy.
Young Captain Kate inherited her boat from her murdered father and has spent most of her life at sea. She also is impulsive and youthful enough to get caught up in the often violent imperial competition and then with a criminal mastermind hoping to control the valuable islands. She is recruited by the spymaster the book takes its name from. She has also befriended a dragon who was injured and has deserted the Dragon Brigade. To complicate matters, the Captain had once been interviewed by a reporter who has since blown up her tall tales and added more outlandish detail, until at nineteen Kate is both famous and infamous as "Captain Kate and her Dragon Corsairs." All Kate wants is to become a privateer and get rich enough to buy back the lost family manor. What she gets instead are plots, spies, rogue dragons, and a very angry fleet that is after her for revenge for piratical acts she never committed, but which sold a lot of papers.
This is set in the same world as the three Dragon Brigade novels by the same authors, and is the first of a new series. It had better be the first of more, with its cliffhanger ending. Well written, compelling reading, Spymaster has all the intrigue and action of a classic high seas tale combined with the political intrigue found in The Three Musketeers. Add to that combination dragons, magic, and a touch of romance, and you have a book any fantasy reader will enjoy. If you read Margaret Weis' solo novels, you need to add this one to your bookshelf. Recommended for anyone who enjoys action fantasy, and doubly recommended if you also have read C. S. Forester's Hornblower classics or any other novels about wooden ships, iron cannons and pirates.
Lucky You! - All books will be signed, and can be personalized, by Margaret Weis. If you'd like a special inscription, please leave us a note in the comments section at check out.


Tor Books - Published June 12, 2018
ISBN-13: 
978-1250170026
Paperback: 480 Pages
Dimensions: 
6 x 1.2 x 9 inches
---