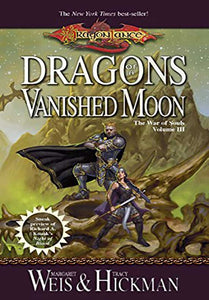 Margaret Weis
Dragons of a Vanished Moon (Dragonlance War of Souls, Vol. 3)
Regular price
$7.99
$0.00
Unit price
per
The flames of war devour Ansalon. The army of dead souls marches toward conquest, led by the mystical warrior Mina, who serves the powerful One God.

A small band of heroes, driven to desperate measures, leads the fight against overwhelming odds.

Two unlikely protagonists emerge. One is a dragon overlord who will not easily relinquish her rule. The other is an irrepressible kender who has been on a strange and remarkable journey that will end in startling and unforeseen fashion.

The stirring climax of the War of Souls.


Please note - these books were shipped directly from our publisher and have slightly discolored page.
Lucky You! - All books will be signed, and can be personalized, by Margaret Weis. If you'd like a special inscription, please leave us a note in the comments section at check out.
Wizards of the Coast - Published March 2003
ISBN-13: 978-0-7869-2950-4
Paperback: 624 pages
EU buyers please be aware that when purchasing from our store you will be required to pay VAT and/or duties upon delivery.
---