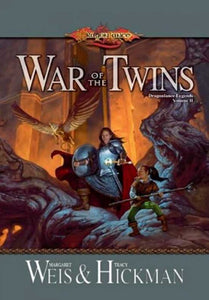 Margaret Weis
War of the Twins (Dragonlance Legends, Vol. 2)
Regular price
$7.99
$0.00
Unit price
per
One hundred years have passed since the fiery Cataclysm that changed the face of Krynn forever. For one hundred years, the people of Krynn have struggled to survive. But for some, those one hundred years have passed in the blink of an eye.

Catapulted forward in time by Raistlin's powerful magic, Caramon and Crysania find themselves aiding the mage's unholy quest to master the Queen of Darkness. To his dismay, Raistlin discovers along the way that the annals of Time are not so easily bent to his will. Neither are the longings of his heart.
Lucky You! - All books will be signed, and can be personalized, by Margaret Weis.

 

For Chronicles and Legends requests, please limit any special inscription request to five words or less (not including Margaret's signature) as there is VERY limited space provided.

 

Just leave us your request in the notes section at checkout. Thanks!
Wizards of the Coast - Published February 2001
ISBN-13: 
978-0-7869-1805-8
Paperback: 432 pages
---