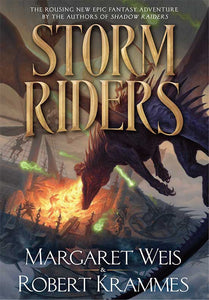 Margaret Weis
Storm Riders (Dragon Brigade, Vol. 2)
Regular price
$8.99
$0.00
Unit price
per
Daring dragon-riders fight to save a uniquely magical world from destruction by vengeful outcasts, in Storm Riders by Margaret Weis and Robert Krammes.
In a magical world, two enemy kingdoms have long sought a weapon that will win lasting dominance. But then both are attacked by the Bottom-Dwellers, bitter people whose own land was destroyed. Using contramagic strengthened by blood sacrifice, they threaten to bring down whole cities. Freya and Rosia must put aside their age-old conflict to defend themselves. As the Bottom-Dwellers' contramagic eats away the magic of the dragons that protects the world above, a former dragon-riding hero gathers a new dragon brigade, the one desperate hope of the two kingdoms to defeat the fiends who threaten their world. The new dragon brigade's high-flying heroics will be to no avail, though, unless they can uncover forbidden knowledge, long hidden by the Church.

From Starred Publishers Weekly Review
This rousing second chapter in the Dragon Brigade epic fantasy series (after Shadow Raiders) is set in an intricate magical land that floats on the Breath of God. Bitter rival empires Rosia and Freya are threatened by Bottom Dwellers, evil demons that live on the planet's surface. Freya's wily puppetmaster, Sir Henry Wallace, and Rosia's formidable schemer, Countess Cecile de Marjolaine, lead an immense and fascinating cast through intrigue and derring-do, first scheming against each other and then teaming up to battle their mutual enemy. They're abetted by a variety of dragons, such as the noble mansion-dwellers of Rosia and the wild iridescent youngster that Cecile's estranged son, Stephano, yearns to ride into battle; the beasts are standouts in the genre, wistful, intriguing, and utterly convincing. New readers may be lost without a dramatis personae, maps, and a synopsis of earlier action, as this complex universe is prone to rapid shifts of scen and personnel, but the multifaceted action and well-drawn characters will keep any fantasy fan's excitement at feverish pitch, a particularly impressive feat for a middle book.
Reviews
"The novel is a great ride, offering shifting political alliances, thrilling battle sequences, angst-y romance and hairpin plot twists." - Kirkus Reviews, starred review
"A very solid piece of epic fantasy, with conspiracy and plotting as well as a great deal of action, Storm Riders carries on an entertaining story to a cliff-hanger that guarantees readers will want the next volume." - Booklist
Lucky You! - All books will be signed, and can be personalized, by Margaret Weis. If you'd like a special inscription, please leave us a note in the comments section at check out.


Tor Books - Published July 2014
ISBN-13: 978-0-7653-6952-9
Paperback: 752 Pages
---